January '18 - 2 Piece Bus Stop Ad Designed for South Bronx Classical Charter School II in the South Bronx.
This bus stop ad was designed by me for School II in Classical Charter Schools network in the South Bronx. The ad was created in order to increase scholar enrolment number for one of the Network's four schools. The ad was aimed at parents and scholars from the South Bronx area. The use of English and Spanish languages was included based on the population and demographic of the targeted area.
This ad was personaly recognised by the network's founder and school director and directly contributed to reaching enrolment goals for School II for 2018/2019 school year.
The project was designed in Adobe Photoshop.
September '17 - Handy Retreat
Handy Retreat was a two day camping experience designed for Handy company which focused on team building and corporate development of the New York based team. The event was facilitated and organized on the premises of Camp Echo. I was involved in overseeing the operations of the whole event and technical and logistical set up of the event. Team building activities organized for the Handy staff focused on promoting team work and leadership.
August '17 - 5K Fun Run
The 5K Fun Run was organized for Camp Echo's own Echo Cares charity event. The event involved all campers (700+), aged from 7-16 years old and staff. The event was organized by myself and facilitated by myself and the operations team at camp. The route, course map, race bibs, wave timing, water stations and staffing were all directed by myself. I feel this event was very successful and received a lot of positive feedback from campers and staff.
January - May '17 - Website Development
During the early months of year 2017, I assisted a development of a website. This project forced me to pursue my interest in website development and learn the basics of website coding using Ruby on Rails programing language. The website consisted of non-user (logged out) interface and user (logged in) interface and included the ability to add funds, receive payments, and store encrypted personal data. I worked on this project for over five months and really enjoyed learning new skills and troubleshooting when something went wrong. Since May, I have continued to self learn coding in my spare time.
October - December '16 - XMA ltd.
As part of my role I created, updated and maintained up to date accrual records for over 200 contracted customers. During my time at XMA my individual effort helped improve customer invoicing processes from 40.3% of customers invoiced per month to 88.3% of customers. I managed raising and posting invoices to our customers for their monthly/quarterly and annual usage. I supported processing of various customer orders making sure the right toners and parts were delivered to customers on time. I maintained up to date records of all devices bought and leased as well as worked in partnership with my colleagues on developing customer contract summaries and preparation of contracts for new customers and contract addendums for existing customers.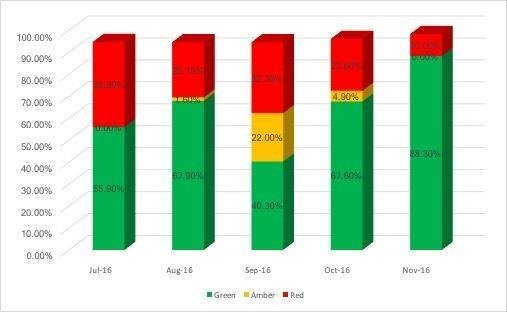 % of customers on contract in each invoicing status
(green - up to date, amber - currently in process of invoicing, red - overdue on payments)
September '13 - September '16 - Teesside University Recruitment
As an intern at the University, I attended 100+ recruitment events and conventions around the United Kingdom aiming to promote higher education and careers after college. In my three years at Teesside University, I contributed to raising student enrollment numbers and assisted in raising Universities' public profile and image. My face-to-face sale and marketing techniques, attracted students from countries such as England, Scotland, Wales and Ireland, and secured Teesside University as their first choice university.
June - July '16 - Big Bang STEM
Big Bang is an annual STEM orientated event aiming to engage students with science, technology, engineering and mathematics subjects and careers. As part of this project I was involved in coordination of venues, preparation of logistical arrangements and catering for our external customer working in partnership with Teesside University. The series of events engaged more than 2500 young students from North Yorkshire area of England and was a huge success for careers advisors from different enterprises.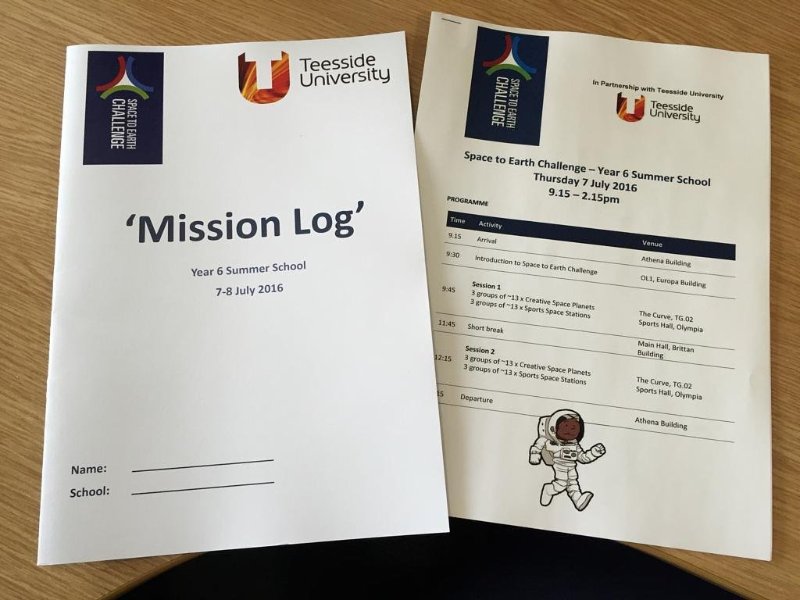 July '16 - Space to Earth Challenge
This project was a two day event for Year 6 students progressing into a new school for Year 7. This event aimed to engage new students and their new teachers in physical activity, educate in the area of science and space to promote team building activities so that students can more easily settle into the new environment comencing in September 2016. This event is a great opportunity for students to build relationships with one another and their teachers.
February '16 - Animexperience 2016
Animex is an International Animation and Computer Games Festival held at Teesside University each year around February time. It's aim is to promote the area of animation and computing to young generations of students, allow current University students to showcase their work and attend lectures and workshops from guest speakers including novel writers and animators. As part of the project team, my role was to liaise with invited schools making sure we reached our required numbers and instructions for the day were clearly communicated. My role also involved coordination of logistics and structure of the day.
May - July '15 - Mission-X Summer School
I organized these events for Teesside University in partnership with UK Space Agency. The series of events engaged elementary school students and enhanced their creativity and sporting abilities through various activities. During their visit at the University students studied and designed prototypes of wearable technology that could be used in space. Student also tested their physical abilities in hydrotherapy pool as well as during indoor and outdoor sporting events. The summer school engaged more than 320 students from different schools around the area.